Manchester Police 'Fill In Some Gaps' In Anuj Murder Case
Pune, Jan 3: The Manchester police team investigating the murder of city-based Anuj Bidve, today said that they were able to "fill in some of the gaps" in understanding the events leading to the tragic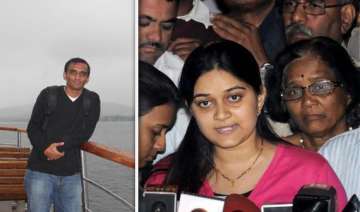 PTI
January 03, 2012 20:34 IST
Pune, Jan 3: The Manchester police team investigating the murder of city-based Anuj Bidve, today said that they were able to "fill in some of the gaps" in understanding the events leading to the tragic death of the 23-year old student at Lancaster University on December 26.

"We met Anuj's family last night for several hours and were able to fill in some of the gaps in understanding the events leading up to Anuj's tragic death," Greater Manchester chief police superintendent Russ Jackson told reporters here this evening.

Jackson, who arrived here last night along with his colleague Peter Richards, said one Kiaran Mark Stapleton (20), charged with Anuj's murder was produced at Manchester Magistrate's court on Monday (Jan 2) and remanded in custody to await trial.

"The purpose of our visit was to speak with the family of Anuj and to support them in what must be one of the most difficult times of their life. In all incidents of murder, we use specially trained liaison officers who work with a family. Their role is to support and guide them through the upsetting process of receiving their loved one back and matters such as court proceedings", Jackson said.

"It is not uncommon for us to send officers to other countries if the victim's family come from outside the UK," he said adding "it is specially important in this case and in our view best done in a face to face meeting".

Jackson said "Anuj's family are understandably very keen to have Anuj's body returned to them. In the UK, following charge of a person, the defence is entitled to a second post mortem examination. This is taking place this morning (Jan 3). After this, the Coroner will be able to consider release of Anuj. Anuj's family is aware of this and the detailed reasoning behind it".

Bidve was shot dead in an unprovoked attack in Salford.

Refusing to answer any questions, Jackson said, "Because of the legal proceedings taking place, it is difficult for us to comment further... it would be wrong for us to do so".

Suruchi Wagh, cousin sister of the deceased youth said the second post mortem of the body was in progress today and the family members will soon be travelling to the U K to claim the body.

"The family has to plan a lot before they fly out…so this will be the last update because we honestly don't have anything else to say," she said.

After a meeting with the Manchester police team yesterday, Suruchi had told reporters that the investigators had described the attack on Anuj as "unprovoked and motiveless and the racial angle was not ruled out".