Maneka Gandhi objects to 'animal' practices followed by Army
New Delhi: Union Minister for Women and Child Development Maneka Gandhi, who is also a renowned animal rights activist, has objected to  two traditions of armed forces that amount to cruelty to animals.Gandhi has written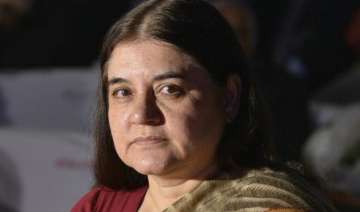 India TV News Desk
April 06, 2015 13:57 IST
New Delhi: Union Minister for Women and Child Development Maneka Gandhi, who is also a renowned animal rights activist, has objected to  two traditions of armed forces that amount to cruelty to animals.
Gandhi has written to Defence Minister Manohar Parrikar raising questions over the practice of animal sacrifice in Gorkha regiment and another of airdropping living animals for regiments in inaccessible areas to provide them fresh meat.  
Earlier too Maneka had written similar letter to Arun Jaitley, Parrikar's precursor in the ministry.
The Gorkha regiment has been around since the time of the British and animal sacrifice has been followed since the time it was formed.
At the same time, the Gurkha brigade in the British Army, a throwback to its Indian days, ended the practice of sacrificing male buffaloes in all its units stationed in Hong Kong and Brunei back in 1973. Similarly, the Gurkha brigade of Nepal allows sacrifice of only one animal for all its men, Army officers said.
In the Indian Army, many top officers, including Chief Dalbir Singh Suhag, belong to the Gorkha regiment. Sources said the Army has urged that its age-old traditions not be tampered with.
Gandhi's first letter, sent in July 2014, called the practice "unnecessary".
"The government of Uttarakhand has banned animal sacrifice even for the Army, and the regiments stationed in Uttarakhand have stopped killing animals. Therefore killing animals for sacrifice is not intrinsic to any culture or practice followed by a regiment. Hence it needs to be immediately stopped," she wrote in the letter.
Gandhi has called the practice, followed for border troops, "barbaric". "It may have had its use during that period when communication and roads were not available, but there is no reason why the animal should be subjected to such cruel practices in present times, especially when pre-packaged meat products are easily available."

Both Parrikar and Jaitley are believed to have sought the Army's views on the matter.