Manohar Parrikar visits Hindon air base
Ghaziabad: Defence Minister Manohar Parrikar today visited the Hindon Air Force Station Hindan here to familarise himself with the operations being carried out by C-17 Globemaster III and C-130 J Super Hercules, the two most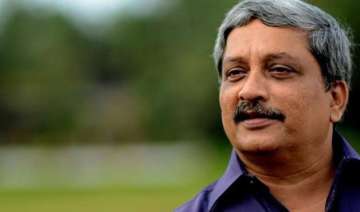 PTI
January 02, 2015 22:47 IST
Ghaziabad: Defence Minister Manohar Parrikar today visited the Hindon Air Force Station Hindan here to familarise himself with the operations being carried out by C-17 Globemaster III and C-130 J Super Hercules, the two most modern transport aircraft in Indian inventory.  
He was accompanied by the Chief of the Air Staff, Air Chief Marshal Arup Raha and the Air Officer Commanding in Chief of the Western Air Command, Air Marshal S S Soman.  On his arrival at Hindon, the Minister was briefed by Soman on the role for which both these aircraft are being employed and their potential for employment in various contingencies.
This was followed by a tour of the flight complex and a visit to the special equipment bay, an official statement said.
The Minister was also provided an on-site familiarisation of both the aeroplanes followed by a visit to the C-130J simulator wherein he gained first-hand experience of flying of C-130 J.
Parrikar also had a 'windshield tour' of C-17 where he was familiarised with the on-board equipment and instrumentation.  The 77 Squadron had created history and a world record when a C-130 J was landed at the treacherous Daulat Beg Oldie (DBO) in Ladakh sector at an altitude of 16614 feet on August 20, 2013.
The squadron specialises in undertaking a gamut of diverse roles, including insertion and quick deployment of Special Forces, air drop and other operations in hostile areas and other combat support roles.
The Super Hercules was used extensively during the flood relief operations in Uttarakhand. The aircraft landed at Dharasu to supply fuel to helicopters involved in rescue and relief operations.