Mayawati's Powerful Minister Siddiqui Was On Home Guards Rolls As Asst Coy Commander
Lucknow, Apr 7:  It can happen only in India. Former Uttar Pradesh chief minister Mayawati's powerful minister  Naseemuddin Siddiqui had been on the home guards roster as an assistant company commander, while he a minister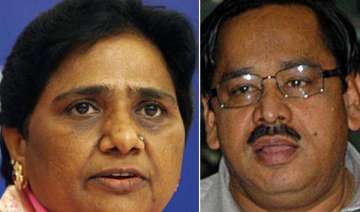 PTI
07 Apr 2012, 8:15:02 AM IST
Lucknow, Apr 7: 
It can happen only in India.
Former Uttar Pradesh chief minister Mayawati's powerful minister  Naseemuddin Siddiqui had been on the home guards roster as an assistant company commander, while he a minister in the state government for the last 5 years, reports Times of India.
He was holding the post even while he was a minister heading the public works department and many other ministries.
Siddiqui  was inducted in the state HG department 28 years ago and never quit till a few months back.
Minister for Home Guards Bhrammha Shankar Tripathi on Friday ordered a probe into how Siddiqui, seen as BSPs Muslim face, continued as a home guard officer and possibly drew an honorarium.
As per the Home Guards  records,  Siddiqui was appointed as the Asst Company Commander  of Home Guards in Banda in 1984.
For the last more than a decade there has been no word from Naseemuddin in terms of his attendance or status as ACC.
As a result the HG department remained short of a ACC all this while.  Though the post of ACC is an honorary one, a fixed stipend of Rs 350 per month is paid to the individual.
There were no records available to confirm if Naseemuddin has availed the stipend and if so, then up to which date.
The TOI report quotes a letter dated February 13, 2012 stating that he had resigned from the post. But the letter has no entry in the official records, said Tripathi.
He added that he had ordered the probe to be completed within three months
On the face of it,the incident may not appear to have financial implication,but it reflected the manner in which the former minister handled responsibilities vested in him as an ACC,a senior HG department officer said.
The Lokayukta had indicted Siddiqui in a case related to disproportionate assets and acquiring properties illegally.
The Lok ayukta had recommended a CBI and ED probe into assets and alleged irregularities.