Meet Jyoti Ram the cobbler father of a MP Son
Panchkula: At a time when Narendra Modi's journey from tea-seller to Prime Minister is the flavour of the season, there's a similar heart-warming tale nearer home. Ambala MP Rattan Lal Kataria's father Jyoti Ram continues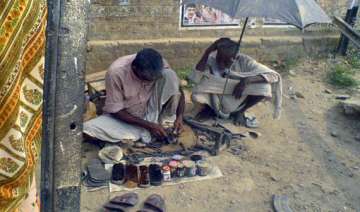 India TV News Desk
June 03, 2014 8:21 IST
Panchkula
: At a time when Narendra Modi's journey from tea-seller to Prime Minister is the flavour of the season, there's a similar heart-warming tale nearer home.
Ambala MP Rattan Lal Kataria's father Jyoti Ram continues to make shoes by hand, a trade he picked up to sustain his family of eight way back in 1941.
While Kataria goes to work in a red beacon car, his 87-year-old father makes shoes at a small temporary hut a little distance from his humble home at Ladwa in Kurkushetra.
"I have repeatedly asked my father to discontinue this work, but he says he doesn't want to forget his roots," says Kataria, who lives in Sector 4 of Mansa Devi Complex here.
"I don't want to give up the work that helped me raise my children and look after my family. It reminds me of the struggle we went through. It is in this very hut that Rattan would make plans to do something for the country. This work is respect and a lucky charm for me," says Jyoti Ram. "More than that, it keeps me fit or I would grow old," he adds with a twinkle in his eye.
Kataria's political journey began when joined the RSS as a student of Class III at a school in Ladwa.
"When I was in Class V, I saw some boys beating up our teacher. I went to the police station and asked the policeman to take action, but he did not. I revolted and got summons from the court. This incident was a turning point in my life," says the MP.
As a young lawyer, Kataria contested the election in 1987 and was elected Radaur MLA at the age of 32. In 1999, he became the Ambala MP and settled down in Panchkula.
I want to bring a university or an IIM to Panchkula, as the city is currently dependent on Chandigarh for education.
I want maximum job opportunities to be created here and I will talk to Modiji to make the city a tourism and industrial hub as well.