Meet the man from Hyderabad who types with his nose
New Delhi:  A 23 year old man Mohammed Khurshid Hussain from  Hyderabad has set up the Guinness World Record for typing a 103-word sentence in the shortest time, with his nose.Hussain is the youngest Muslim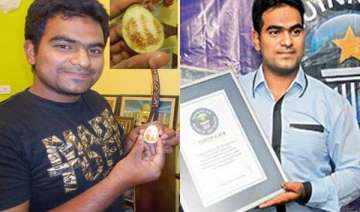 India TV News Desk
March 08, 2014 6:34 IST
New Delhi: 
A 23 year old man Mohammed Khurshid Hussain from  Hyderabad has set up the Guinness World Record for typing a 103-word sentence in the shortest time, with his nose.
Hussain is the youngest Muslim Guinness record holder. He learned typing at the age of 7. His mother Qudsia taught him the skill and she asks him to always practice Islamic teachings.
It is Husain's second achievent for Guinness as he already holds the Guinness World Record for typing the English language alphabet in the shortest amount of time, 3.43 seconds, on a keyboard with his fingers.