Midday meal tragedy: Principal, husband remain at large
Chhapra (Bihar), July 21: With the school principal and her husband continuing to evade arrest even after six days of the midday meal tragedy, police has decided to move court on Monday for attachment of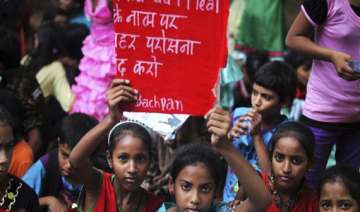 PTI
July 21, 2013 18:31 IST
Chhapra (Bihar), July 21:
With the school principal and her husband continuing to evade arrest even after six days of the midday meal tragedy, police has decided to move court on Monday for attachment of property of the absconding duo.
"Raids are being made at different places based on clues about absconding school principal Meena Devi and her husband Arjun Rai but we have not been able to nab them so far," Saran Superintendent of Police Sujeet Kumar told PTI.
The police would approach court tomorrow for attachment of property of the absconding duo, Mr. Kumar said. An FIR has been lodged against principal of Dharmasati Gandaman School, Meena Devi under section 302 (murder) and 120-B (criminal conspiracy) in connection with the death of 23 children after eating midday meal at the school on July 16.
Probe report Commissioner (Saran) and Deputy Inspector General of Police (Saran range) Binod Kumar who has submitted a report to the government has blamed the principal for the tragedy. "She had mismanaged the affairs of the school entirely," is the crux of the report over the midday meal incident.
The Saran SP said that police force is still stationed at the house of the school principal, who has been suspended over the event, and additional policemen have been deployed in the village to keep a watch over the situation.
Bihar Education Minister P.K. Shahi has also pointed to the questionable role of the principal in the tragedy forcing students to finish the meal which they were hesitant to eat further because of its pungent smell and also overlooking the doubts of the cook over oil for cooking vegetables which was of a different colour.
Mr. Shahi has also highlighted the role of her husband Arjun Rai who had supplied the food items. He alleged that Mr. Rai was an active member of RJD which is working to "destabilise" the Nitish Kumar government.