Militants burn down the lone govt school in Manipur's Chandel district
Imphal: Militants on August 15 night set fire to Maha Union govt higher secondary school in Japhou, the lone government school at Chandel district headquarters gutting the entire building causing loss of nearly Rs 24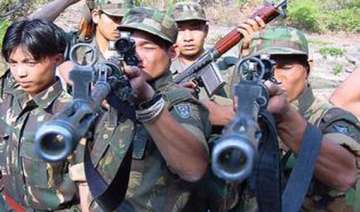 India TV News Desk
August 18, 2013 9:42 IST
Imphal
: Militants on August 15 night set fire to Maha Union govt higher secondary school in Japhou, the lone government school at Chandel district headquarters gutting the entire building causing loss of nearly Rs 24 lakhs.
K. Shangkham Monsang, school principal  said, the entire administrative block of the school alongwith marksheets, text books, exam papers, teachers' files, 16 sets of computers were gutted in the fire alongwith Rs 2 lakh cash kept inside the safe.
Documents  that were gutted include services books of the staffs, registers of  class I –XII, Jama Bandi of the school, original certificates of Class I –XII, marksheets, brochure sheets, enrolment documents, attendance registers of students and teachers, transfer and posting files of teachers and non-teaching staffs, Govt. documents related to RMSA, SSA, COHSEM, BSEM, mid-day meal bills and bill papers of salaries, registration certificates, duly filled in application forms of Classes IX and XII, SSA text books, examination papers and stationeries and transfer related papers of students.
The principal said, 12 iron almirahs, 4 wooden almirahs, 16 sets of computers, 11 tables, 70 plastic chairs , 2 rolling chairs, 10 wooden chairs, 2 ceiling fans, 1 cooking gas cylinder , 3 brite, 5 sintex, 4 filters, 3 bags of rice, 1 cyclostyle machine, 1 manual type writer, 1 inverter set, 3 printers, 1 HP scanner, Wimax internet, 1 LCD Projector, 1 parachute, sports materials and kitchen materials were completely damaged in the fire.
Electric short circuit was ruled out as there was no electricity in the entire  town from afternoon of August 15, said Shangkham.
The principal appealed to the public to regard places of learning as places of worship. Education is the most important thing in one's life, she said and appealed to the perpetrators to abstain from repeating the same mistake in their lives again.