Mining of iron ore from Noamundi in couple of days: Tata Steel
Jamshedpur: A day after Jharkhand government's assurance to initiate steps to renew Tata Steel's iron-ore mine, the company today expressed the hope that mining activities would be resumed in a couple of days.  "There are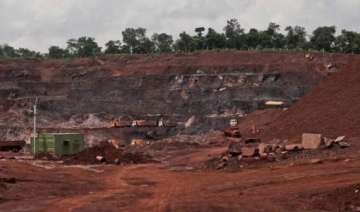 PTI
January 01, 2015 16:30 IST
Jamshedpur: A day after Jharkhand government's assurance to initiate steps to renew Tata Steel's iron-ore mine, the company today expressed the hope that mining activities would be resumed in a couple of days.  "There are some formalities needed to be completed, which will be done in two-three days, and than we'll resume our production activity in the Noamundi mine, which remained closed since September last on renewal of lease issue," Tata Steel Managing Director (India and South East Asia) T V Narendran said here.
"We are getting support from the new state government and all the problems will be sorted out soon," he said expressing confidence that the stable government in the state would carry out developmental work fast.
Expressing happiness over the approach of the government in renewal of iron-ore mine, Narendran said, "we had a difficult time importing iron-ore, but we have learnt a lesson while facing difficulty and challenges." "We never thought we had to import iron-ore for a company operating for so long," he said, admitting that the company did not have enough storage capacity.  "We have imported five million tons of ore since the close of mining activities in September, causing over a century-old company to pass through difficult time," he said adding the company had stock to manage for sometime till mining operation be resumed in the state.
Referring to the Kalinganagar project in Odisha,Narendran said the first phase of three million ton wasexpected to be commissioned in the next couple of months as Tata Steel had focused on the Greenfield project