Missed call campaign to make cow 'Rashtra Mata'
Aligarh: Gorakhpur MP Yogi Adityanath has come up with a movement to make cow, a 'rashtra mata'- mother of nation, through his Aligarh branch outfit Hindu Yuva Vahini (HYV).The movement having started over mobile phones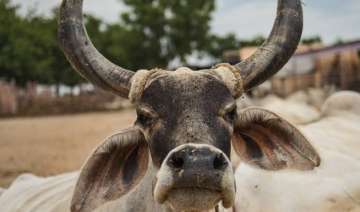 India TV News Desk
April 02, 2015 9:25 IST
Aligarh: Gorakhpur MP Yogi Adityanath has come up with a movement to make cow, a 'rashtra mata'- mother of nation, through his Aligarh branch outfit Hindu Yuva Vahini (HYV).
The movement having started over mobile phones carries a message circulated by the outfit: "make cow Rashtra Mata, give missed call on the toll free number – 07533007511".
Vishwa Hindu Parishad (VHP) and several other Hindu outfits are also supporting the move. HYV also has plans to spread the movement to the region further and then the state if the response turns out to be good in Aligarh.
Mahant Kaushal Nath, associated with the HYV at Achal Tal in Aligarh, said, "This initiative has got support from other groups as well. We want to win the status of 'rashtra mata' for cows in India."
"People are expected to give missed calls if they support the move, and they will get a message in return acknowledging their support," he added.
He said that through the move he wants to create consciousness among the people regarding the condition of cows in the country.
He also said that through the move they will create awareness amongst people to either adopt cows and give them a home or donate money to 'gaushalas' to help in the upkeep and maintenance of the cows.
As per Nath, the response is turning out to be good and next month the HYV will be meeting MP Yogi Adityanath to take the move further to other parts of the state.
Interestingly, Pradeep Kumar, of VHP in Aligarh who supports the missed call campaign has asked if asking for making cow as 'rashtra mata' and Mahatma Gandhi being Father of Nation will not make it awkward.
"The cow is part of Sanatan Hinduism for ages. 'Father of the Nation' is just a title, nowhere written or recognized. A human being can never be father to a nation; it's hard to compare these disparate things. From a cow, we get milk; cow dung and urine have medicinal properties. A tree too is something that gives us oxygen and wood, so a tree too could be represented as life-giving," he said.