Mizoram's Deputy Government chief whip arrested
Aizawl, July 11: Police today arrested Mizoram's Deputy Government chief whip R L Pianmawia in connection with a forgery case after the court of Aizawl District and Sessions Judge rejected the anticipatory bail plea.Police said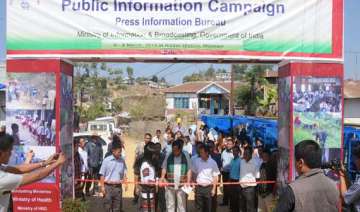 PTI
July 11, 2013 17:35 IST
Aizawl, July 11
: Police today arrested Mizoram's Deputy Government chief whip R L Pianmawia in connection with a forgery case after the court of Aizawl District and Sessions Judge rejected the anticipatory bail plea.
Police said that Pianmawia surrendered at the Aizawl police station and was sent to the Central Jail near here after being produced in a local court.
District and Sessions Judge K L Liana in his order pointed out that the court did not have any reason to grant anticipatory bail to the Congress legislator and also mentioned that the police failed to initiate any investigation even after FIR was filed on June 27.
"Why the investigating agency failed to initiate investigation even after registering a case?," the court asked adding whether the same thing would happen to the common people.
Pianmawia's bail application would again be heard in the court tomorrow.