New mobile app to trace Haj pilgrims
An Internet-based, user-friendly smartphone application has been launched to address the issue of missing Haj pilgrims.Haj comitte has launched a new app named, 'Indian Haj Accommodation Locator Mobile App' for the comfort of people on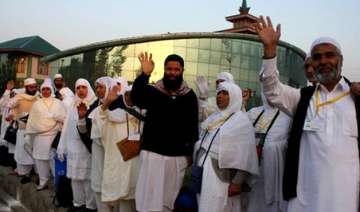 India TV News Desk
April 18, 2015 16:47 IST
An Internet-based, user-friendly smartphone application has been launched to address the issue of missing Haj pilgrims.
Haj comitte has launched a new app named, 'Indian Haj Accommodation Locator Mobile App' for the comfort of people on this divine journey. Through this app, pilgrim will be able to access all the information related to the Haj yatra. 
The "Indian Haj Accommodation Locator," compatible with both Android and Apple operating systems, has an icon reflecting colours of the national flag and can be downloaded for free via Google Play Store and the Mac app store.
Once downloaded, all you have to do is click on the icon and enter a pilgrim's cover number or passport number. You will get details about his/her accommodation, including building number, tent number or office number, plus an easy-to-follow satellite or a regular road map that will lead officials and volunteers to their location, in Mecca, Mina or Madina.
Every Indian pilgrim would, on arrival in Jeddah, be provided with a SIM card for use in that country and app will work only on that SIM.
By this app the consulate would constantly be in touch with the pilgrims, sending out text messages about important announcements.
With the help of this app, family members of pilgrims will also be able to track them and find their location.
With the constant increase in the number of Haj pilgrim this app is surely going to be beneficial.