Modi govt to host 'Buddha Poornima Diwas'
New Delhi: The Narendra Modi government will host an international Buddhist function on the occasion of 'Buddha Poornima' on May 4 where a special prayer will be offered to express solidarity with the people of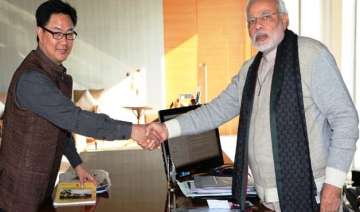 PTI
April 29, 2015 19:36 IST
New Delhi: The Narendra Modi government will host an international Buddhist function on the occasion of 'Buddha Poornima' on May 4 where a special prayer will be offered to express solidarity with the people of quake-hit Nepal, the birth place of the religion's founder. 
Minister of State for Home Kiren Rijiju, the only Buddhist minister in the Modi government, said the government function is being organised considering the fact that India is the birth place of Buddhism and the whole world look into the country as the spiritual centre of the religion. 
"The International Buddhist Confederation (IBC) with full support of Ministry of Culture is hosting a historic 'International Buddha Poornima Diwas Celebration 2015' on May 4 at Talkatora stadium in New Delhi," he said at a press conference here. 
Rijiju said, on this occasion, the Prime Minister, who will grace the function as chief guest, will lead the nation in prayers and express solidarity with the people of Nepal, the birth place of Buddha, and all those affected in India and Tibetan Autonomous Region. 
"The move to organise the function was initiated under the aegis of IBC and the Prime Minster has accorded the importance in preservation and promotion of shared heritage and development of Buddhist pilgrimage and heritage circuit in top priority," he said. 
Tourism and Culture Minister Mahesh Sharma, several Members of Parliaments, Ambassadors, eminent scholars, Buddhist monks and nuns from India and various countries will attend the event. 
"Large number of followers of Buddha Dharma from all over India will attend the event," he said. 
Rijiju expressed hope that with the celebration, the flow of religious tourism will increase to India. 
"The way the Muslims consider Mecca, the way Catholics consider Bethlehem, similarly the Buddhists across the world treat India the same way," he said. 
'Buddha Poornima' or 'Vesak' is recognised as the thrice sacred day that marks the birth, enlightenment and 'mahaparinirvana' of lord Buddha. While Buddha was born in Lumbini in Nepal, he attained enlightenment in Bodhgaya in Bihar, preached first in Sarnath and 'nirvana' in Kushinagar in Uttar Pradesh.