Modi-Obama climate change usual rhetoric: Greenpeace
New Delhi: Greenpeace India Sunday expressed its disappointment that the India-US bilateral talks on climate change did not go beyond "rhetoric" and "platitudes".In response to the joint agreement between Prime Minister Narendra Modi and US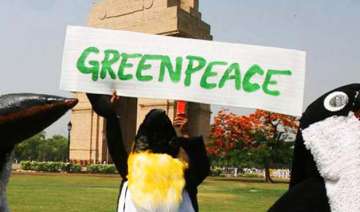 IANS
January 26, 2015 10:28 IST
New Delhi: Greenpeace India Sunday expressed its disappointment that the India-US bilateral talks on climate change did not go beyond "rhetoric" and "platitudes".
In response to the joint agreement between Prime Minister Narendra Modi and US President Barack Obama on strengthening partnership in clean and renewable energy efforts, the environmental NGO, in a statement, expressed disappointment over the announcement that "didn't go beyond rhetoric and the usual platitudes".
However, it welcomed the leaders' decision to phase out hydro-fluorocarbons (HFC), a greenhouse gas that adversely affects the climate.
The big shift that was seen was the agreement they reached to phase out HFCs, which has been a thorny issue in the past with India not keen to move on it.... (it) is certainly good news," the statement said.