Modi, Obama to discuss defence, nuclear deals in Delhi
New Delhi: US President Barack Obama will have a tight schedule during his three-day visit starting January 25, as he will hold talks with top leadership here on ways to make progress on key issues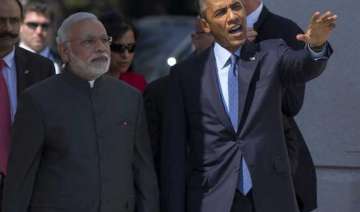 PTI
January 14, 2015 20:32 IST
New Delhi: US President Barack Obama will have a tight schedule during his three-day visit starting January 25, as he will hold talks with top leadership here on ways to make progress on key issues like defence and civil nuclear agreement and attend the Republic Day celebrations as the Chief Guest, among other engagements.
Obama, who will be the first US President to be the Chief Guest at the Republic Day parade, will be accompanied by his wife Michelle Obama and a team of senior officials in his administration.
On first day of his visit, the American President and Prime Minister Narendra Modi will hold comprehensive talks on the entire gamut of bilateral ties and discuss ways to enhance cooperation in key components, including civil nuclear and defence pacts. The two sides have already decided to renew for 10 years during a Summit meeting in September in Washington a defence pact to start joint development and production of military hardware.
The visit is also expected to give fillip to the seven-year-old civil nuclear deal as the cooperation in the sector has been stalled over the tough provisions in the Civil Nuclear Liability Act here.
During the September meeting, the two leaders had decided to set up a high-level Contact Group on civil nuclear cooperation.
The Group has already held two rounds of detailed discussions on a range of implementation issues, including administrative, liability, technical and licencing to facilitate the establishment of US-designed nuclear power plants in India.
The two sides are also reportedly working on a proposal for a insurance pool by the domestic Indian companies to offset the financial burden of American entities as both countries are keen to have a "concrete" deliverable in the area during Obama's visit.
After their meeting, Modi and Obama will make press statements. The US President will also attend the banquet in his honour by President Pranab Mukherjee at Rashtrapati Bhawan, according to the information available here.
On second day of the visit, Obama will attend the Republic Day parade and later, along with Modi, will take part in Indo-US CEO roundtable.
On the final day of the visit, Obama is expected to address a town hall. However, the time and place have not been finalised so far.
The advance US team is scheduled to be here to finalise security and protocol issues with its Indian counterparts tomorrow.
Before his departure from India, the first US couple will visit Taj Mahal, an iconic piece of Mughal architecture, in Agra. Obama's wife Michelle accompanied the US president during the four-day trip in 2010 but the couple could not go to Agra to visit the "monument of love" then.  Meanwhile, ahead of the Presidential visit, India and the US are holding a series of high-level meetings in key areas of investment, counter-IED and infrastructure here as well as in Washington.
The interactions includes India-US infrastructure collaboration platform, Indo-US Investment Initiative and a meet on US Global Entry Programme.  There is also a four-day meeting between India and the US on counter improvised explosive devices (IED) being held in Washington since Tuesday during which ways to help India tackle the threat of IEDs with information and technology was being discussed.