More than 1.70 lakh Lankan refugees, asylum-seekers, IDPs: UNHCR
Chennai: Even five years after end of the civil war between Sri Lankan government and LTTE, over 1.70 lakh people remain either as refugees or asylum-seekers in other countries or Internally Displaced Persons within the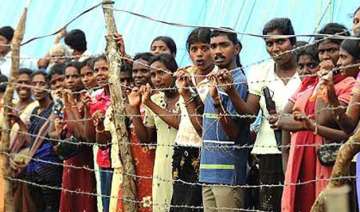 PTI
January 13, 2015 14:08 IST
Chennai: Even five years after end of the civil war between Sri Lankan government and LTTE, over 1.70 lakh people remain either as refugees or asylum-seekers in other countries or Internally Displaced Persons within the Island, according to United Nations High Commissioner for Refugees (UNHCR).
'UNHCR Mid-year Trends 2014' published by the UN agency said 1,23,028 persons of Lankan origin were refugees, another 16,190 were asylum-seekers (pending cases) and 30,847 were declared IDPs, either protected or assisted by UNHCR as of June 2014. The total population of concern to the UN agency was 1,81,645 persons.
The report released by UNHCR said there were 1,24,438 refugees, 18,056 asylum-seekers (pending cases) and 80,216 Internally Displaced Persons as on June 2013.
Total population of concern to the body was 2,36,444 persons.  
In another report 'Global Appeal 2015 Update', the agency observed that refugees, IDPs and refugee returnees in Sri Lanka "struggled to meet their basic needs and the lack of a comprehensive national policy on land rights has had an adverse impact on the sustainability of return."
"More recently, national security concerns have led to shrinking of asylum space in Sri Lanka, with the detention of refugees and asylum-seekers," it said.
Indicating phasing out of its programme for IDPs in the island nation, it said, "While phasing out its programme for IDPs in 2015, UNHCR will liaise with other actors to help ensure a smooth handover."
In 2015, UNHCR would enhance its capacity to conduct RSD and resettlement submissions as "it was the only durable solution available to refugees."
Though UNHCR downscaled its budget for Sri Lanka from USD 9,128,705 as on June 30 2014 to USD 7,662,461 this year, it said the country requires resources to ensure protection and basic assistance with increasing numbers of asylum-seekers.  
UNHCR said it aimed to enhance asylum space, including by identifying opportunities for local integration, improving livelihood for urban refugees, ensuring their smooth voluntary return from India to Sri Lanka and supporting sustainable return for those IDPs in Sri Lanka.
It also aims at ensuring expeditious resettlement of vulnerable refugees for whom voluntary return to their countries or local integration is not possible, UNHCR said.  
"It will seek access to all asylum-seekers and effective protection for them by the Government.
The Office will also facilitate voluntary return of Sri Lankan refugees and those internally displaced, in safety and dignity and assist them to reintegrate through community mobilization projects,it said.
As per various estimates, there are over a lakh Sri Lankan refugees—all of them ethnic Tamils—in over 100 normal camps and special camps in Tamil Nadu.