MoU signed for central agriculture university in Bihar
Patna: The Bihar government and Indian Council for Agricultural Research (ICAR) on Sunday signed a Memorandum of Understanding (MoU) to set up a central university, the Rajendra Agricultural University (RAU), at Pusa in Samastipur district.Union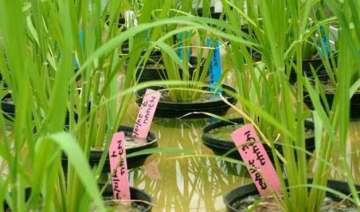 PTI
January 26, 2015 6:51 IST
Patna: The Bihar government and Indian Council for Agricultural Research (ICAR) on Sunday signed a Memorandum of Understanding (MoU) to set up a central university, the Rajendra Agricultural University (RAU), at Pusa in Samastipur district.
Union Agriculture Minister Radha Mohan Singh and Bihar Chief Minister Jitan Ram Manjhi oversaw the signing of the MoU at a function organised here.
Expressing happiness on the occasion, Singh said, "A full-fledged central agricultural university was a long pending demand of the state and it will prove to be a blessing for the farmers and people. It will lead to prosperity in the lives of small and poor cultivators. I will ask ICAR officials to expedite the work to establish the university."
The Union Minister pointed out that agricultural productivity of Bihar was highest in pre-Independence era and the new university would help in reclaiming the state's lost glory.
The Centre has already approved a proposal to provide Rs 400 crore under the 12th Five Year Plan towards this purpose, he said.
Speaking at the function, Manjhi said the agricultural university would prove to be a "milestone" in the history of Bihar and hoped that the Centre would expedite the processes connected with it.
"We had been requesting the Union government for a central agricultural university since 2009 as it will be very important for the role of Bihar farmers in enhancing the food security of the entire nation," he said.
Manjhi said farming was becoming costlier by the day and scientists need to invent measures to check it and focus should be on agricultural research to help take the load of food requirements of the increasing population, as well as, to counter environment pollution.
"We need to adopt bio-fertilisers and organic practices or else the future generations will point their fingers at us. We have increased the agriculture budget of Bihar from Rs 100 crore in 2005-06 to Rs 2,700 crore in 2014-15 and have plans to spend Rs 1.5 lakh crore under the 'agricultural road map' for the state till 2022," he said.
The Chief Minister demanded an agriculture engineering college in Saran district under the proposed agricultural university and said the state government was appointing 417 agriculture officers for the first time after 1989-90.
The central agricultural university would face many challenges as the expectations of the farmers would increase, he said exhorting scientists to work towards meeting them.