MP government to make badlands of Chambal cultivable
New Delhi: Madhya Pradesh government has made up its mind to develop Chambal ravines - a geographical feature once infamous for sheltering dacoits – into agricultural fields.Chief Minister Shivraj Singh Chouhan on Wednesday initiated a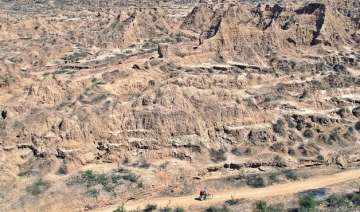 India TV News Desk
January 15, 2015 17:23 IST
New Delhi: Madhya Pradesh government has made up its mind to develop Chambal ravines - a geographical feature once infamous for sheltering dacoits – into agricultural fields.
Chief Minister Shivraj Singh Chouhan on Wednesday initiated a proposal before Centre regarding the same. He spoke to Union Agriculture minister Radha Mohan and told him that the undulated barren area can be successfully turned into a cultivable land with the use of technology and can open several options of agriculture and jobs.
Singh, in turn, asked the CM to send him technical details of the proposal.
Currently, the state has nearly 18 lakh hectares of ravines with steep but shallow gullies. This area is mainly along the banks of the river Chambal and its tributaries in districts such as Bhind, Morena, Shivpuri, Gwalior, Ujjain and Mandsaur. The Chambal river system is also well preserved with a national sanctuary supporting a good number of gharials, muggers, fish and migratory birds.
Though the State government has already started cultivating a  part of this area for industrial purposes however, a large part still remains barren for which it has sough Centre's support. This will also have to be seen if the initiative holds an ecological effect on the unique topography.
 Officials present in the meeting have ascertained that leveling the infertile area is not a completely impossible task if adequate technological means are provided. "After all, it's mostly the topsoil which has to be leveled. The entire ravine may not be leveled due to the punishing topography, but it can be done in areas where the gullies are up to 15-20 feet deep. The government has done it successfully in the Bhind-Morena area in the past," a state government official told Economic Times.
State has even approached private companies for the work, promising them to later hand over the developed areas to set up their units.
Currently, state agencies are developing industrial areas in Sitapur and Bohat in the ravines by adopting the leveling methods, "The idea is to create jobs for local people who have faced years of bloodshed in the area due to presence of dacoit groups. Dacoits are no longer there but the region needs development by way of creating cultivable land and industrial units," the official said.