MP Mining Mafia Tries To Mow Down Woman Tehsildar
Bhopal, Apr 18: A woman tehsildar narrowly escaped being mowed down by an earth extractor machine while trying to stop illegal mining on Tuesday.Meena Pal, posted tehsildar at Kannod tehsil in Dewas district, had rushed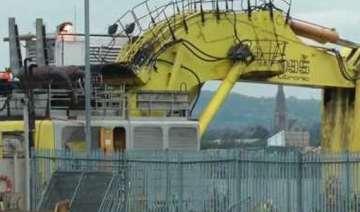 PTI
April 18, 2012 22:57 IST
Bhopal, Apr 18:
A woman tehsildar narrowly escaped being mowed down by an earth extractor machine while trying to stop illegal mining on Tuesday.
Meena Pal, posted tehsildar at Kannod tehsil in Dewas district, had rushed to Kusmania village along with some other officials on Tuesday morning following information regarding illegal stone mining being carried out on government land in the village, reports The Hindu.
However, as the officials tried to stop the illegal extraction, one of the drivers of a JCB extractor machine panicked and sped towards Ms. Pal. Fortunately for her, the tehsildar managed to get away in time and escaped unhurt.
The driver and other employees of the mining mafia fled the spot leaving their equipment behind, which was seized by the district administration.
According to reports, a case has been registered at Kannod police station under section 353 of the IPC and a local contractor, Tara Singh Patel, has been named in the FIR.
The opposition Congress has condemned the incident.
"This incident proves yet again that the mining mafia reign supreme in Madhya Pradesh without any fear of the law," state Congress president Kantilal Bhuria said in a statement.
The last two months have seen a visible increase in attacks on government officials by the mining mafia in Madhya Pradesh. Besides the alleged murder of IPS officer Narendra Kumar in Morena, government officials from Panna, Bhind and several other regions have come under attack from either the illegal mining or liquor mafia.