MP Police Parades Accused Tied With Rope, Makes Him Shout 'Police Mera Baap Hai'
Indore, April 4: In an act reminiscent of British Raj, the Madhya Pradesh Police paraded an accused, barefeet and tied with ropes, through  a hamlet Alirajpur on March 29, and made him shout the slogan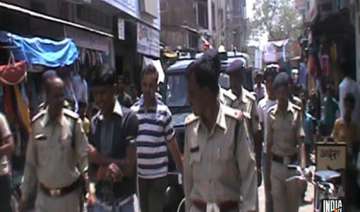 India TV News Desk
April 04, 2012 9:35 IST
Indore, April 4:
In an act reminiscent of British Raj, the Madhya Pradesh Police paraded an accused, barefeet and tied with ropes, through  a hamlet Alirajpur on March 29, and made him shout the slogan "police mera baap hai". 
Antim Bhide, the accused used to previously work with the local BJP MLA Nagar Singh Chauhan, but later the two fell out. Chauhan  asked the policemen to teach Antim a lesson, says his mother.  
The youth was picked up by police on March 29 on charge of beating somebody,  and was thrown into a lockup.  He was given third degree treatment inside the lockup and then paraded for more than an hour on the streets of Alirajpur.  
With two policemen flanking him, the youth was tied with a rope and asked to walk barefoot in the hot sun.  Nearly six policemen followed behind, with a police mobile van in the rear and the youth shouting hallelujah for the police.  
Antim's mother Shah Bai has sent a complaint to the National Human Rights Commission seeking justice and action against the erring policemen.  
In the complaint, she says, when Antim wanted water to drink while being paraded, the policemen told him to come with them to lockup where he would be made to drink urine.