MP Villagers Carry Out Funeral Procession Of Monkey
Dhar, MP, Jan 2: Residents of Lebad village in Dhar district on Sunday brought out a funeral procession of a monkey electrocuted by a live wire. A band played soulful music as the last rites of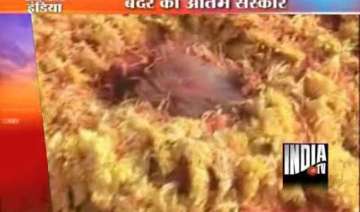 India TV News Desk
January 02, 2012 9:52 IST
Dhar, MP, Jan 2: Residents of Lebad village in Dhar district on Sunday brought out a funeral procession of a monkey electrocuted by a live wire.
 
A band played soulful music as the last rites of the monkey draped in a red cloth were performed.
 
Shops in the village remained closed for the day and several people got their head shaved as a mark of respect.