Mumbai gangrape: Celebrities express disgust, feel ashamed
Mumbai: Prominent writer and celebrity Shobhaa De today reacted acerbically to the Mumbai gangrape incident by tweeting on social media. " Yeh mera India. Yeh meri Mumbai.Another gang rape. One more victim. Just another day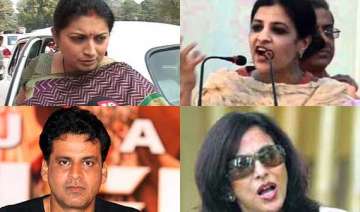 India TV News Desk
August 23, 2013 18:02 IST
Mumbai
: Prominent writer and celebrity Shobhaa De today reacted acerbically to the Mumbai gangrape incident by tweeting on social media.
" Yeh mera India. Yeh meri Mumbai.Another gang rape. One more victim. Just another day in our great nation", tweeted Shobhaa De.
Tweeted Bollywood actor Manoj Bajpayee: "Mumbai is shamed by the incident of gangrape last night.we all hang our head in shame that we can not give a safeworld to women."
BJP Rajya Sabha member Smriti Irani tweeted: " Have given notice for suspension of Question Hour in Rajya Sabha 2day re the brutal gangrape of a young photo journalist in Mumbai yesterday"
Shazia Ilmi, Aam Aadmi Party activist said: "I really cannot believe that this kind of incident took place in Mumbai. I think we should focus on the male, what sickness and mental sickness they have that they end up doing all this. I think the school, the parents all are responsible for all this."
"Area like Mahalaxmi where there are two stations , and so much crowd,  this incident took place. We just want to tell her that we are with her and we will fight this", said Ilmi.