Mumbai gangrape: Read the disturbing account given to police by male colleague of the victim
Mumbai: A Mumbai newspaper has published in full the spine-chilling statement given to police by the male colleague of the female photojournalist, who was gang raped by five people in Mahalaxmi on August 22. Following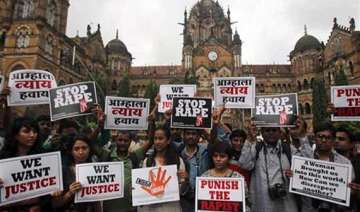 India TV News Desk
August 28, 2013 12:04 IST
Mumbai:
A Mumbai newspaper has published in full the spine-chilling statement given to police by the male colleague of the female photojournalist, who was gang raped by five people in Mahalaxmi on August 22.
Following are excerpts from the full statement:
"...I reached my office at 1 pm on August 22. After finishing my work, I and my female associate left office at around 5 pm. We reached near Mahalaxmi station and decided to take pics of Shakti Mills located near the railtracks. At around 5:30 pm, we reached near a broken wall close to the railtracks.
"...We were finding it difficult to trace a point from where we could enter the mills compound. We stood there and began to think. Suddenly, two people came out of Shakti Mills compound and told us there was a good road ahead to enter the compound. We moved forward and found a well-trodden path.
"...We entered the mills compound and I started taking photos  of the mill with my Nikon camera. My female colleague began taking snaps on her Apple iPhone. We noticed a regular road that had vehicles right outside the mill, and decided to leave by that road.
"...At around 6:15 pm, two persons who had shown us the way to the mill came They were accompanied by a well-built  bulky man, who told us their boss has seen us taking photos and we would have to go and meet their boss. My colleague told the bulky man she was ready to talk to him, but the bulky man did not listen, and ordered us to follow him. As we were following him, my colleague rang up our photography department on her mobile, but could not connect as our photographer sir's phone was busy.
"...While walking, we stressed that we wanted to go on the main road, which had vehicular traffic, but that man did not listen to us and said, we would have to take the path which they use to enter the mill.
"...While we were walking, my female colleague got a call from our boss. My colleague told the boss that we were with some railway officers and they are taking us inside.  One of the well-built persons told us there had been a murder inside Shakti Mill compound and that I was the person who committed the crime.
He called in more people, and all five of them told me I was the murderer.
"We requested them to allow us to leave, but they ordered us to shut up. ..The bulky man then took out his belt and began beating me, and tied both my hands at the back with the belt.
Seeing this, my female colleague offered to give them her mobile phone and my camera. She even told them her mobile phone was worth Rs 30,000 and they could take it and allow us to leave. But those people did not listen. One of them took off the belts from my body and my colleague's body.  
They noticed that the earlier belt that they had used to tie me up was loose. They then tied my hands with my belt, and brought ropes to tighten up the belt. Three of them stood near me, while the bulky man and his associate (having moustache) took my colleague to a dilapidated room.
 I continued to plead to the three persons guarding me to allow us to leave but they did not listen.
"...After 5 to 10 minutes, the mustachioed man returned, and one of the three persons guarding me went inside. The mustachioned man told me neither she nor I were telling them anything, and they would have to do something about it.
"...The mustachioed man began rummaging through my bag and my colleague's bag. The other person took out my colleague's iPhone and began playing with it. The mustachioed man took out a small bag from inside my colleague's bag.
 A black cloth fell from my colleague's bag. He closed the bag, and allowed the black cloth to fall on the ground.
"..Sometime later, the bulky man and two others came out, and the remaining two went inside.  Soon after, one of them, a lean man wearing blue jeans came out. One of those guarding me went inside, and now four persons were standing by my side. Ten minutes later, the bulky man came out and told me, you are all kids, and opened my belt. My colleague then came out. She was looking very much afraid, and held my hand.
"...The five people took us near the railtracks. It was 7;15 pm. We were told to stand inside the mill compound, as two local trains passed. The five people then told us to go on walking till Mahalaxmi station and not look back.
..I then asked my colleague about what had happened, and she said all of them raped her six times, and she was then in pain and bleeding. She asked me to take her to Jaslok Hospital immediately. I immediately spoke to my boss, told him the whole story and said we were going to Jaslok. I hired a taxi and took my colleague to the hospital. On the way, our boss joined us. We got her admitted to Jaslok Hospital. A few minutes later, police arrived at the hospital."