Gopinath Munde rules out MNS joining opposition alliance in Maharashtra
Mumbai : Despite former BJP president Nitin Gadkari's parleys with Raj Thackeray and his request to the MNS chief not to field candidates for the Lok Sabha, senior BJP leader Gopinath Munde yesterday ruled out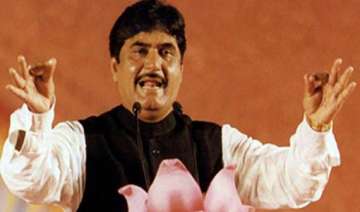 PTI
March 07, 2014 7:56 IST
Mumbai :
Despite former BJP president Nitin Gadkari's parleys with Raj Thackeray and his request to the MNS chief not to field candidates for the Lok Sabha, senior BJP leader Gopinath Munde yesterday ruled out MNS's joining the five-party opposition alliance ('Mahayuti') in Maharashtra.
"The seat distribution of Mahayuti partners is over. The Mahayuti is strong. I don't think it will be able to take in a new partner now," Munde said here.
"Raj and Gadkari are friends... they meet often.Everyone, including Shiv Sena chief Uddhav Thackeray and I know this," Munde, BJP's deputy leader in Lok Sabha, said.
"I tried my best for the last two-three years to bring MNS to our side, but did not succeed. Now the time (for MNS entry into Mahayuti) has passed," Munde said.
Sena mouthpiece Saamana, in an editorial yesterday, had slammed Gadkari for holding talks with Raj without Shiv Sena's knowledge.
On his opposition to NCP chief Sharad Pawar, Munde said, "I oppose Pawar not as a person but his politics. I have been opposing his style of politics for a long time.
"I told the (BJP) central leadership that it won't be right to admit Pawar in (NDA). I had said that instead of benefiting us, it would cause us damage," Munde said.