Telangana killings: Muslim body demands high-level judicial probe
Aligarh: All India Majlis-e-Mushawarat, an apex body of different Muslim organisations in the country, has urged the central government to constitute a high-level judicial panel for a time-bound probe into the recent killing of five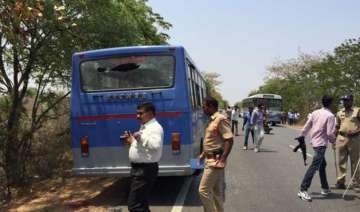 PTI
April 09, 2015 17:41 IST
Aligarh: All India Majlis-e-Mushawarat, an apex body of different Muslim organisations in the country, has urged the central government to constitute a high-level judicial panel for a time-bound probe into the recent killing of five alleged SIMI activists while in custody in Telengana.  
The Majlis president Zafurul Islam in a statement today said all independent accounts suggested that the victims were handcuffed when the killing took place.  Khan said senior functionaries of the NDA government were asserting that "Indian Muslims were immune to the designs of International terrorism" while the security forces were "in fact pushing Muslim youths into the hands of the forces of extremism and terrorism".
Khan said it would be tragic for all concerned if Muslim youths are pushed to the brink by such forces.  Khan said that the Telangana killings were a chilling reminder of the unpunished "false encounters" which took place in the past such as Hashimpura and Batla house, warned that the situation was fraught with grave consequences.