Muslim population on a growth by 24%, lesser than the previous decade
New Delhi: A census data on population of religious groups, soon to be released by Prime Minister Narendra Modi government, shows a 24% growth in the number of Muslims between 2001 and 2011.The data which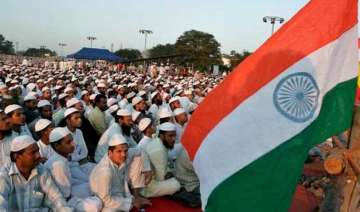 India TV News Desk
January 22, 2015 9:44 IST
New Delhi: A census data on population of religious groups, soon to be released by Prime Minister Narendra Modi government, shows a 24% growth in the number of Muslims between 2001 and 2011.
The data which was compiled last year in March and was intentionally held back by the UPA government due to its political implications also shows that the 24% growth of Muslims in the last one decade is comparatively less than that of previous decade when it was 29% between 1991 and 2001.
However, the current figures are still higher than the national average of 18% for the decade.
The data accessed by Times of India, showed that the maximum growth of Muslim community is in the state of Assam which has risen from 30.9% in 2001 to 34.2% in 2011. The reason behind this is said to be the persistent illegal inflow of Bangladeshi immigrants in the state.
Next to it stands West Bengal where again the illegal inflow of Bangladeshi immigrants is an old problem. There the state has seen the rise from 25.2% in 2001 to 27% in 2011 which is more than double the national average also.
Similarly, Uttarakhand has also witnessed a sharp rise in the share of muslim population from 11.9% to 13.9% against the countrywide growth of 0.8%.
Other states which have witnessed the rise are Kerala with 1.9% rise, Goa - 1.5%, J&K - 1.3%, Haryana - 1.2% and Delhi - 1.1%.
Manipur is the only state which has shown a decline in the muslim population by around 0.4%.
Reportedly, Union home minister Rajnath Singh gave a green signal to the report last week only when Registrar General of India and Census Commissioner C Chandramouli asked whether the "sensitive" figures should be released or not.
On Wednesday, he confirmed that the data will be publicized soon.