Nadia court sentences 11 to death for murdering woman to grab land
Nadia: A West Bengal court in Nadia today handed death sentence to 11 persons in a case related to the death of a woman while trying to thwart a forcible attempt to grab her farm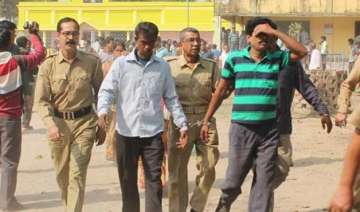 India TV News Desk
February 04, 2016 17:08 IST
Nadia: A West Bengal court in Nadia today handed death sentence to 11 persons in a case related to the death of a woman while trying to thwart a forcible attempt to grab her farm land by a mob over a year ago.
The case relates to the murder of Aparna Bag, a 38-year-old housewife, on November 23, 2015. Aparna was killed while trying to prevent a group of 11 people from grabbing her land in Krishnaganj in Nadia.
Aparna, along with two others, was shot at while trying to stop men from trying to gain control of her field. The two others shot in the attack survived.
According to police, one of the accused in the case is still absconding. The main accused in the murder was Lankeshwar Ghosh, who claimed to be a local Trinamool leader, the police said.
As per reports, the TMC leader was leading a mob that tried to forcibly acquire a piece of land used for farming under Gughragachi village. When villagers including farmers stopped the mob, they hurled bombs and fired shots in return, leading to the death of Aparna.
Trinamool leaders of Nadia district, however, denied the claim.
Trial in the case continued for over a before concluding on January 26 this year. All accused produced in court were held guilty under charges of murder, arms and explosives act. The court today announced the quantum of punishment where all were sentenced to death.