Nandan Nilekani promises to usher in new style of politics
Bangalore: Infosys co-founder and Bangalore South Lok Sabha candidate Nandan Nilekani  believes that his clean image will help him win the election.At a Meet the Press at  Press Club here on Friday he said,  Bangalore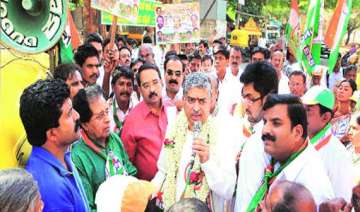 India TV News Desk
15 Mar 2014, 12:14:44 PM IST
Bangalore:
Infosys co-founder and Bangalore South Lok Sabha candidate Nandan Nilekani  believes that his clean image will help him win the election.
At a Meet the Press at  Press Club here on Friday he said,  Bangalore South deserves a better committed and capable person. I can bring that change."
While speaking he mentioned that it was necessary for him to enter politics to bring about the reforms needed to affect change in the country.
Nilekani said "I realized that if India has to have the reforms that it needs, then you cannot stay away from politics. It is easy to stay away from politics. Unless people like me and others come into politics, unless we bring in reforms, we cannot change the country," he said, while claiming to be a practitioner of a new style of politics.
Nilekani attacked the political credentials of the BJP's five-time MP and the Aam Aadmi Party.
He called AAP an "agitationist party" and his main rival in Bangalore South, H N Ananth Kumar, as being too dependent on Narendra Modi.