Karachi Literature Fest: After Anupam Kher, Nandita Das withdraws participation
New Delhi: Following Anupam Kher's exit from the Karachi Literature Festival, the activist and actor Nandita Das declared that she will not be in attendance at the event, slated to begin from February 5, due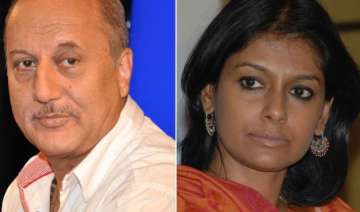 India TV News Desk
February 05, 2016 13:26 IST
New Delhi: Following Anupam Kher's exit from the Karachi Literature Festival, the activist and actor Nandita Das declared that she will not be in attendance at the event, slated to begin from February 5, due to her bad health.
She made the announcement on her Facebook post on Thursday saying that she feels terrible to let the organizers down but couldn't help.
"I have been unwell since yesterday and unfortunately I am unable to go Karachi. I felt terrible letting down the organisers but it's beyond my control. I had offered to do the sessions via Skype to make sure one can participate and the intent with which the Lit Fest is organised, is upheld," read the post.
Nandita, in her post, also explained that her decision of not going to Pakistan is not in anyway related to the Anupam Kher controversy.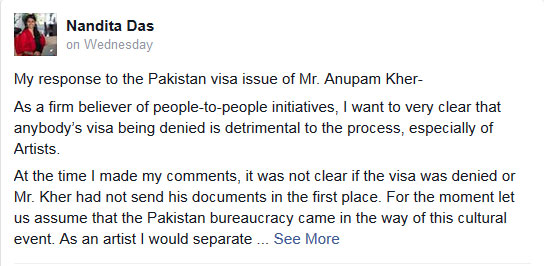 She further expressed that that even if Pakisan's bureaucracy came in the way of issuance of visa, she would separate this bureaucratic roadblock from genuine efforts to strengthen friendship between the two countries.
"People's intention and efforts build bridges and have to be separated from government policies and positions," she further wrote in the post.
On Tuesday, veteran actor Anupam Kher, who was also invited at the fest, had alleged that Pakistan government had declined his visa. However, the Pak High Commission claimed that he hasn't applied for it in the first place.
Kher's allegations had created a fiasco after which he held a press conference to clear the controversy.
Apart from Anupam Kher and Nandita Das, several other luminaries from India, including transgender rights activist Laxmi Tripathi, are scheduled to speak at the event beginning today.