National Security Act invoked against ex-BJP leader for cow slaughter
Bhopal: The Madhya Pradesh government has invoked the National Security Act (NSA) against expelled BJP leader Anwar Mev after he was arrested for allegedly slaughtering a cow at his house.Mev was arrested after the carcass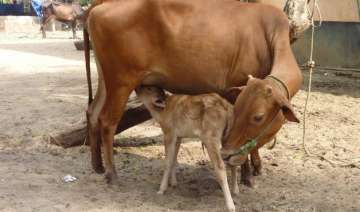 PTI
February 01, 2016 7:43 IST
Bhopal: The Madhya Pradesh government has invoked the National Security Act (NSA) against expelled BJP leader Anwar Mev after he was arrested for allegedly slaughtering a cow at his house.
Mev was arrested after the carcass of a cow was recovered from his house in Maniyarpura locality in Tonkkhurd Nagar town of Dewas district on January 27, leading to protests by right-wing organisations.
On January 28, the BJP expelled Mev, who was the vice president of the local minority cell. "We have expelled Mev from the party," state BJP spokesman Dr Hitesh Bajpai said.
Mev and nine others are facing a criminal case under the Madhya Pradesh Cow Slaughter Ban Act and the IPC, according to Dewas additional superintendent of police Rajesh Raghuvanshi. He is currently in Ujjain jail.
When contacted, BJP leader Shailesh Kesarwani said, "The (district) administration must have imposed NSA after seeing Anwar's record. Cow slaughter won't be tolerated at all."