Naxals Kidnap Sukma district collector in Chhattisgarh
Raipur, Apr 21: In an audacious daylight operation, Maoist rebels today abducted Collector of Chhattisgarh's Sukma district Alex Pal Menon from the middle of a meeting with villagers after killing his two security officers.  Menon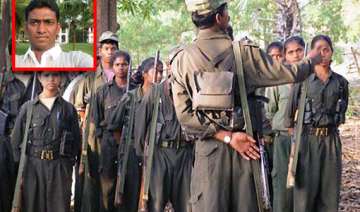 PTI
April 21, 2012 23:19 IST
Raipur, Apr 21:
In an audacious daylight operation, Maoist rebels today abducted Collector of Chhattisgarh's Sukma district Alex Pal Menon from the middle of a meeting with villagers after killing his two security officers. 
Menon (32), an IAS officer of 2006 batch, was kidnapped from Majhipara village in Keralapal area of the Naxal-infested district this afternoon, Additional Director of Police (anti-Naxal operations) Ram Nivas told PTI.
The incident happened when Menon, who went to the village on motorcycle was holding a meeting with the villagers as part of the government's 'Gram Suraj' campaign, aimed at weaning away the locals from the path of Naxalism. 
"Around 20 Naxalites reached the spot and shot dead two personal security officers of the Collector before taking him into the nearby forest," Ram Nivas said. 
The Maoists, however, spared Sub-divisional Magistrate S K Vaidya, who was also present.
A police team led by district Superintendent of Police Abhishek Shandilya rushed to the spot and launch a combing operation to rescue the Collector, he said. 
Chief Minister Ram Singh said full efforts will be made to secure Menon's release. "We are analysing the situation," he said.
Home Minister P Chidambaram spoke to Singh and assured him all help from the Centre.
A special team has been constituted to mount concerted rescue efforts for the top district officer after Director General of Police A M Nawani reviewed the situation at an emergency meeting with state police brass. 
The Sukma district Collector's kidnapping comes even as uncertainty continues over the fate of ruling BJD MLA Jhina Hikaka in neighbouring Odisha who was abducted by the Maoists about a month ago.
Menon is the first Collector of the newly-created Sukma district and was known to be pro-active in undertaking development work in the backward region.
Naxals had last year kidnapped the Collector of adjoining Malkanagiri district of Odisha R Veenel Krishan along with a junior engineer and released them after the state government agreed to fulfill all 14 demands of the rebels including withdrawal of cases against top CPI (Maoist) leaders Prasadam, Padma and Eswari to facilitate their release from jails. 
In Odisha two Italians were abducted by Maoists who freed them after a month in captivity after the state government acceded to their demand to release some of the jailed left wing extremists.
State Home Minister Nankiram Kanwar said the Naxals had come on bikes and abducted Menon after opening fire.  Chhattisgarh DGP Anil M Navani said this is the first such incident of its type in the state. "We are formulating our strategy to deal with it," he said.
Union Home Secretary R K Singh spoke to his state Chief Secretary and offered to provide additional central forces if required.
Earlier, ADGP Ram Nivas said the Naxalites have not established any contact with the government or put forth any demand so far.
The 'Gram Suraj' campaign has been launched by the Raman Singh government as part of its efforts to check the influence of the Maoists who hold sway in several districts of the state including neighbouring Dantewada. 
Ministers, MLAs and government officers visit the villages during the programme in order to establish better communication with the locals to address their problems effectively.
The Naxalites had yesterday triggered a powerful landmine blast targeting the convoy of Bijapur BJP MLA Mahesh Gagda in which two BJP workers and the driver of the vehicle carrying them were killed when he was on one such campaign.
In Chennai, the family of abducted Chhattisgarh's Sukma District Collector Alex Pal Menon, a young IAS officer hailing from Tamil Nadu, tonight said he was aware of threat of possible kidnap of officials in the region but that never deterred him from responding to the call of duty. 
"We heard that there were warnings about possible kidnap of senior officials in that region. He was advised not to go out without security. He was very careful. But he had to attend to his duties," Menon's father-in-law Venugopal told PTI here. 
Venugopal, a retired LIC officer who resides here, also said his daughter Asha Alex was three months pregnant and had been handling the situation alone and appealed to the Centre to take steps for his son-in-law's early release. 
Menon's father A. Haridhas, who is staying in Venugopal's residence on his recent return from Chhattisgarh, also wanted the government to act speedily.
"The government should take steps to release him soon. It is the duty of the government to get him released from the Maoists. He went to Chhattisgarh to serve the country and he was doing that in Sukma," Haridhas, a retired headmaster from a school in Valliyoor in Tiruneveli district in southern Tamil Nadu, said.
Menon did his schooling in Tirunelveli distirct and obtained his degree in engineering from a private college in Dindigul near Madurai.
Venugopal said they got the news about the abduction this evening through his wife Asha Alex from Sukma.