NDMA vice chairman M. Shashidhar Reddy resigns
New Delhi: NDMA vice chairman M. Shashidhar Reddy on Thursday resigned from his post, an official said.Reddy, a Congress leader from Telangana, was appointed as the National Disaster Management Authority (NDMA) vice-chairman when the body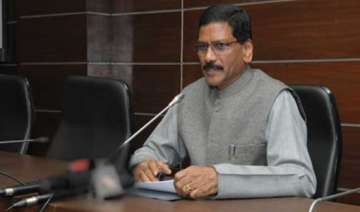 IANS
June 19, 2014 18:13 IST
New Delhi:
NDMA vice chairman M. Shashidhar Reddy on Thursday resigned from his post, an official said.
Reddy, a Congress leader from Telangana, was appointed as the National Disaster Management Authority (NDMA) vice-chairman when the body was formed in 2005. He was reappointed to the post in 2010 for another five years.
An official from the NDMA confirmed that he has resigned, adding that some other members have also sent in their resignations.
This measure came after the prime minister's office asked the members to resign, the official said.
The NDMA is headed by the prime minister.
Apart from Reddy, the other NDMA members are K.M. Singh, B. Bhattacharya, J.K. Sinha, Muzaffar Ahmad, K. Salim Ali and Maj. Gen. J.K. Bansal.
The NDMA vice chairman enjoys the rank of a cabinet minister while other members enjoy the rank of minister of state.