#NepalDevastated: NDRF personnel, relief material rushed to Nepal
New Delhi: Indian Air Force's C-130 J Super Hercules aircraft in Saturday took off from the Hindon airbase here carrying NDRF personnel and relief material to Nepal in the wake of the devastating earthquake that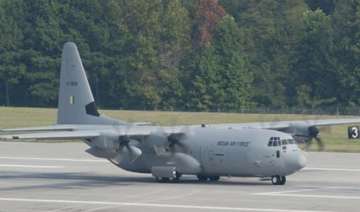 PTI
April 25, 2015 18:17 IST
New Delhi: Indian Air Force's C-130 J Super Hercules aircraft in Saturday took off from the Hindon airbase here carrying NDRF personnel and relief material to Nepal in the wake of the devastating earthquake that has hit the Himalayan country.
Defence sources said a C-17 Globemaster is being prepared for takeoff and will be carrying about 40-member strong Rapid Reaction Aero Medical Team and doctors besides relief material to the country after India assured Nepal of all help.
A 1L-76 transport aircraft will also take off soon with more National Disaster Relief Force (NDRF) personnel on board. After dropping the NDRF team, C-130 J will perform aerial recce to check road communication to Pokhara and return to Hindon, Defence Ministry spokesperson Sitanshu Kar tweeted.
The Defence Ministry has already put Indian Army, BRO and IAF assets on standby for any task in view of the earthquake.
Meanwhile, Union Minister of State for Civil Avaition and Tourism Mahesh Sharma said Air India and Indigo flights are ready for departure to Kathmandu for rescuing the stranded Indians.
"Three Air India flights and some Indigo are ready to take off but the Air Traffic Control in Kathmandu is closed. Once the ATC resumes operations these aircraft will start flying there," Sharma told.
When asked about international flights bound for Kathmandu being diverted to India, Sharma said the flights are being diverted to Delhi and some other airports close to the Nepal capital.
Asked whether stranded Indians would be rescued via roads, Sharma said that option would also explored.