#NepalDevastated: Death toll mounts to 53 in India, over 240 injured
New Delhi: The powerful quake, with epicentre in Nepal, which shook various parts of the country has left 53 people dead and 240 injured even as operations have been stepped up to rescue those feared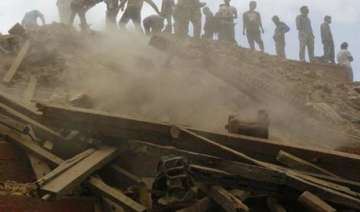 PTI
April 26, 2015 11:45 IST
New Delhi: The powerful quake, with epicentre in Nepal, which shook various parts of the country has left 53 people dead and 240 injured even as operations have been stepped up to rescue those feared trapped under the rubble.
According to the Home Ministry, the toll in the quake in India has climbed to 53 while 240 were injured.  Details of the casualties were awaited.
Bihar, Uttar Pradesh and West Bengal, bordering Nepal,were the worst-hit parts of India in the quake measuring 7.9 on the Richter Scale.
Minister of State for Home Kiren Rijiju had said that Bihar accounted for the highest number of deaths-38-and 133 people were injured in the state.
In Uttar Pradesh, 11 deaths took place and 69 people were injured while in West Bengal 2 persons perished and 35 were injured in the quake, he said.