New auto policy on the anvil in Delhi
New Delhi, Apr 26: Delhi Government will soon come out with a new auto-rickshaw policy under which new licences would be issued besides streamlining operation of the existing three-wheelers.Transport Minister Arvinder Singh Lovely said his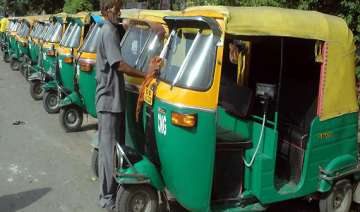 PTI
April 26, 2012 23:23 IST
New Delhi, Apr 26:
Delhi Government will soon come out with a new auto-rickshaw policy under which new licences would be issued besides streamlining operation of the existing three-wheelers.
Transport Minister Arvinder Singh Lovely said his department was working on strengthening the current fleet of around 60,000 auto-rickshaws in the city by allowing plying of new vehicles.
The Supreme Court in November last year had paved the way for plying of one lakh new auto-rickshaws, giving its verdict on an application moved by Delhi Transport Authority in 2002 for lifting a freeze imposed by the apex court in its earlier direction of December 16, 1997.
Lovely said government was also trying hard to ensure installation of GPS devices on all auto-rickshaws in the city.  
"We are going to ensure installation of GPS devices on all auto-rickshaws," he said.
In 1997, the apex court had directed that there shall be no fresh registration of auto-rickshaws as they were running on two or four stroke petrol engines contributing to the severe pollution in Delhi.
It had, however, permitted that existing autos be replaced by new ones.  Subsequently, the autos were converted into single-fuel CNG-propelled vehicles, but the restriction on the fresh registration resulted in malpractices by the auto-owners and drivers.
However, in December 2002, the court allowed a further increase of 5,000 three wheelers.