New multi-level parking inaugurated at Model Town II
 New Delhi: There was an urgent need to limit the usage and number of vehicles in the city, BJP leader and former Union minister Murli Manohar Joshi said yesterday at the inauguration of a multi-level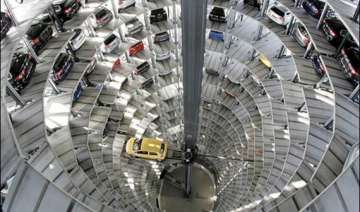 PTI
August 31, 2013 7:09 IST
 New Delhi: There was an urgent need to limit the usage and number of vehicles in the city, BJP leader and former Union minister Murli Manohar Joshi said yesterday at the inauguration of a multi-level underground parking in north Delhi.
The three-storeyed facility in the Model Town-II area, with an area of over 4,498 sq.metre, was built at a cost of nearly Rs 21 crore and has space for 110 cars, officials said.  Engineer-in-Chief, NDMC, Anil Prakash said that optimum utilisation of space had been done to develop the facility.  "It is earthquake resistance and will reduce congestion in the area. It also has a ventilation system with sensors and a fire detection system," Prakash said. 
Besides, the parking has energy efficient lighting system and CCTV cameras at the entry and exits, officials said.  Leader of the House in North Corporation, Mahinder Nagpal, said that the parking also had a public convenience, drinking water, two passenger lifts and an empty space which may be utilised for organising social events. 
At the inauguration, Joshi sought to draw attention to the increasing number of vehicles in the city.  "There has to be a limit on the usage and number of vehicles.
The number of vehicles is crossing the limit in big cities. Every year, five lakh people migrate to Delhi and, keeping this in mind, local bodies have a greater of role and responsibility," Joshi said.
 On the occasion, Nagpal also enumerated future projects being developed under North Corporation.  "An auditorium with a seating capacity of 924 is coming up at the Shyama Prasad Mukherjee Civic Centre and the Kamla Nagar parking will also be inaugurated in the next few days.  The auditorium has been named after the former mayor of Delhi, the late Kedar Nath Sahni," he said.