New weekly train to connect Puri-Sainagar Shirdi
Nagpur: The Railways have decided to introduce a new weekly express train between Sainagar Shirdi and Puri via Nagpur.Accordingly, train number 18407 will depart on every Friday (from Aug 18) from Puri at 10.15 pm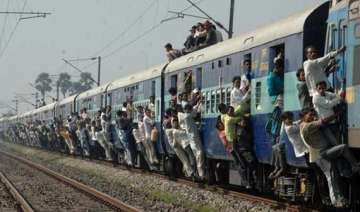 PTI
August 21, 2013 13:36 IST
Nagpur:
The Railways have decided to introduce a new weekly express train between Sainagar Shirdi and Puri via Nagpur.
Accordingly, train number 18407 will depart on every Friday (from Aug 18) from Puri at 10.15 pm and arrive at Nagpur on Saturdays at 7.40 pm, Badnera at 10.40 pm and reach Sainagar Shirdi on third day (Sundays) at 8.25 am.  Similarly, 18408 will leave Sainagar Shirdi at 1 pm on every Sunday and arrive Badnera at 10.20 pm (same day) and Nagpur at 1.40 am (Mondays) and reach Puri at 11 pm the same day, according to a release issued by the Nagpur division of Central Railway.
The train will halt at Khurda Road, Bhuvneshwar, Dhenksal, Talchar, Angul, Brinda, Sambhalpur, Bolangir, Titlagarh, Kantabhansi, Mahasamund, Raipur, Durg, Gondia, Nagpur, Wardha, Badnera, Akola, Bhusaval, Manmad and Kopargaon.
The train will have 22 coaches, including one AC2, three AC3, nine SL, six unreserved, one pantry car and two SLR, the release added.