New Year brings respite from cold in Delhi
New Delhi: The first day of New Year brought respite from intense cold as the minimum temperature was recorded two notches above the season's average at 8.8 degree Celsius Thursday.Moderate fog delayed over 40 trains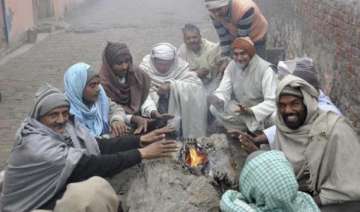 IANS
January 01, 2015 10:47 IST
New Delhi: The first day of New Year brought respite from intense cold as the minimum temperature was recorded two notches above the season's average at 8.8 degree Celsius Thursday.
Moderate fog delayed over 40 trains and the Met Office has forecast a cloudy day.
According to Northern Railway, 36 trains coming to the national capital were running late due to the fog, seven were rescheduled and 15 were cancelled.
"The sky will remain partly cloudy and the maximum temperature will hover around 20 degrees Celsius," said an India Meteorological Department official.
Humidity at 8.30 a.m. was 93 percent while the visibility was 500 meters.
Wednesday's minimum temperature was 8.6 degrees Celsius, slightly above the season's average, while the maximum was 18.5 degrees Celsius, two notches below the season's average.