Major News Events for 17th April, 2015
1. PM Modi to participate in wreath laying ceremony at Air India Memorial Site at TorontoPrime Minister Narendra Modi will today participate in wreath laying ceremony at Air India Memorial Site at Toronto before departing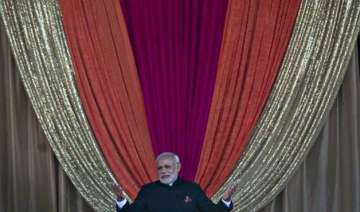 India TV News Desk
April 17, 2015 9:59 IST
1. PM Modi to participate in wreath laying ceremony at Air India Memorial Site at Toronto
Prime Minister Narendra Modi will today participate in wreath laying ceremony at Air India Memorial Site at Toronto before departing for Vancouver where he will visit a Gurudwara and a temple.
2. President to leave on two-day visit to Chhattisgarh, Bihar

President Pranab Mukherjee will be on a two-day tour of Chhattisgarh and Bihar beginning from today. The President will address 4th annual convocation of Indian Institute of Management (IIM)
 
3. Rahul Gandhi likely to meet office bearers of AICC, delegation of farmers

Rahul Gandhi is likely to meet office bearers of AICC and a delegation of farmers today. Noticeably, the Gandhi scion returned back to the country after 59 days in sabbatical.

4. Haryana Congress leaders to meet today

Haryana Congress leaders are scheduled to meet today at 11:30 am at Ahmad Patel's residence.
 
5. Rajnath Singh to address farmers at Kisan Mahapanchayat
 
Union Home Minister Rajnath Singh is scheduled to address a joint Kisan Mahapanchayat in Navaha-Dhanapur villages in Amethi and Pratapgarh districts.

6. VK Singh to tour villages to meet rain-affected farmers

General (Retd) VK Singh will today take a tour to the villages to meet farmers affected by rains and hailstorm. He will later address a press conference

7. Three day Spring Meetings to begin in Washington
Finance Minister Arun Jaitley will attend the IMF-World Bank Spring meetings in Washington.

RBI Governor Raghuram Rajan and other senior officials of the Finance Ministry and the Reserve Bank will participate in the meeting that is likely to focus on the steps needed to give a push to the global economy
 
Manohar Parrikar to talk defence cooperation with South Korea tomorrow
New Delhi, during this three-day visit to South Korea, Parrikar will co-chair the India-Republic of Korea (RoK) Defence Ministerial meeting with his Korean counterpart Gen Han Min-Koo tomorrow.

8. Amit Shah to visit Nagaland
State BJP unit said that the party's national president Amit Shah will visit today Nagaland, accompanied by All India General Secretary (Org) Ram Lal.
 
9. Samajwadi Party to hold a big rally on 88th birth anniversary Chandra Shekhar
Mulayam Singh Yadav to participate today in a programme organised by Samajwadi Party to celebrate birth anniversary of former Prime Minister late Chandra Shekhar as "Dhanyavad Diwas".
Party will thank the Akhilesh government for declaring a public holiday in UP on the occasion.

10. SC to hear Jayalalitha petition extending her bail
SC will today hear Jayalalitha petition extending her bail as Karnataka HC has reserved order and stay put by Supreme Court itself.

11. SC hearing on IPL spot fixing case
Spreme Court will today hear the IPL spot fixing case. There will be status update on Srinivasan and punitive action against Meiyappan and others
12. SC hearing on Arvind Kejriwal petition challenging constitutional validity of defamation case
Supreme Court is scheduled to hear the Arvind Kejriwal's petition challenging constitutional validity of defamation case.
He is facing two defamation cases for his remarks. Court will also hear Amit Sibal, son of Kapil Sibal petition against Arvind Kejriwal related to defamation case also

13. BJP State Working Committee meeting at Katra
BJP State Working Committee is scheduled to hold a meeting today at Katra in which Ram Madhav, Dr. Jatinder Singh and other BJP leaders of the state will be present. Discussion likely on activities of separatist leaders in J&K
 
14. Bar Association Jammu to observe strike

The Jammu and Kashmir High Court Bar Association has decided to observe a one day strike in all the courts across Jammu region to protest against the separatist leaders who hoisted Pakistani flags in Srinagar.