Nitish Katara murder: HC reserves order on Vikas' parole plea
New Delhi: The Delhi High Court today reserved its order on a plea seeking three weeks of parole moved by Vikas Yadav who is serving a 30-year sentence without any remission in the Nitish Katara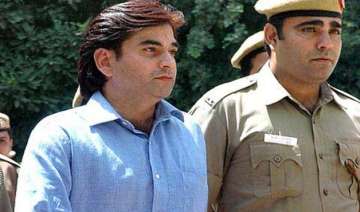 PTI
April 20, 2015 21:12 IST
New Delhi: The Delhi High Court today reserved its order on a plea seeking three weeks of parole moved by Vikas Yadav who is serving a 30-year sentence without any remission in the Nitish Katara murder case.  
A bench of Chief Justice G Rohini and Justice R S Endlaw said it will pass an order on the petition after the counsel for Vikas and the Delhi Police concluded their arguments.  
Advocate Sumeet Verma, appearing for Vikas, said that his client parole be extended for the preparation and filing of an special leave petition (SLP) in the Supreme Court against the conviction and sentence awarded by the high court.  The counsel said this kind of ground's considered to be a crucial ground for granting parole.
Rajesh Mahajan, representing Delhi Police, had vehemently opposed Vikas' plea for parole extension, saying the court has granted the convict enough time to prepare his appeal.  A single-judge bench had on April 10 refused to extend the parole of Vikas and asked him to "surrender immediately".  
Vikas, son of Uttar Pradesh politician D P Yadav, sought 21 more days for him to surrender, saying he was not able to prepare the appeal, for which he was out.  The convict was granted seven days parole last month, after he said he wanted to challenge in the Supreme Court, the high court verdict in the murder case and wanted to prepare for it.
The high court had on February 6 enhanced the sentence for Vikas and his cousin Vishal from life imprisonment to 25 years without remission for the murder of Nitish Katara and five more years for destruction of evidence in the case.  
The convicts' acquaintance Sukhdev Yadav, alias Pehelwan, was also awarded an enhanced life sentence of 20 years without remission by the high court.
The three were awarded life term by a trial court for abducting and killing Katara, a business executive and son of an IAS officer, on the intervening night of February 16-17, 2002. They did not approve of the victim's affair with Bharti, the daughter of D P Yadav.
The high court had on April 2, 2014 upheld the verdict of the lower court in the case by describing the offence as "honour killing" stemming from a "deeply-entrenched belief" in caste system.