No Comparison Between Modi And Rahul Gandhi , Says Bhaiyyuji Maharaj
Vadodara, Jan 29 : Spiritual guru Bhaiyyuji Maharaj on Saturday said that there cannot be any comparison between Gujarat chief minister Narendra Modi and Congress general secretary Rahul Gandhi, as the former has already "proved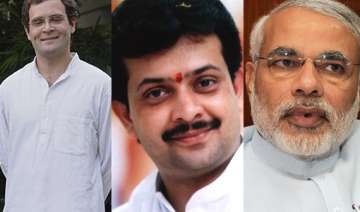 India TV News Desk
January 29, 2012 9:27 IST
Vadodara, Jan 29 : Spiritual guru Bhaiyyuji Maharaj on Saturday said that there cannot be any comparison between Gujarat chief minister Narendra Modi and Congress general secretary Rahul Gandhi, as the former has already "proved his capacity" through Gujarat's development.

"There cannot be any comparison between Modi and Rahul Gandhi! Modi has proved his capacity, while Rahul Gandhi is yet to prove it," he said.He also said that Modi has got the potential to become the Prime Minister of the country.

The Indore-based religious leader was in the city to attend a national youth convention 'Yugantar', organised by the Maharaja Sayajirao University of Baroda. 
Talking about his relationship with Modi, Bhaiyyuji Maharaj said that of of them are "patriotic at heart" and had been working for the "development of all classes of society."

"We are both working to change the society. Modi has built many dams, launched initiatives like 'Save the Girl Child' campaign. Similarly, we have promoted worship of trees instead of worship of human beings and built 946 ponds in 330 villages," he said.

Terming Gujarat as a "positive" state, the religious leader said, "The appointment of Lokayukta or Lokpal has no relevance in Gujarat, which has achieved developments in all the fields.
The state can become a role model for other states in the country, which are facing several problems."

The spiritual guru, who had emerged as a mediator in the Lokpal standoff between the government and anti-corruption crusader Anna Hazare's team last year, said, "Hazare's

movement against corruption has succeeded in creating awareness on corruption in the country."