No Plans To Rename Chandni Chowk After Sachin, Says Delhi Mayor
New Delhi, Jan 6: Facing all-round criticism for plans to rename Chandni Chowk, Delhi Mayor Rajni Abbi today said the MCD has no plans to rename the historic chowk after Sachin Tendulkar.She termed the news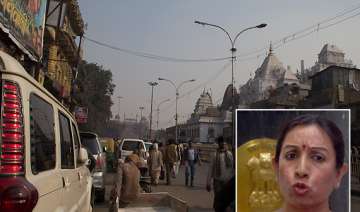 PTI
January 06, 2012 21:16 IST
New Delhi, Jan 6: Facing all-round criticism for plans to rename Chandni Chowk, Delhi Mayor Rajni Abbi today said the MCD has no plans to rename the historic chowk after Sachin Tendulkar.

She termed the news reports about the renaming of Chandni Chowk as "rumours" and said there is no proposal before it in this regard.

Delhi Chief Minister Sheila Dikshit had on Wednesday intervened in the matter after reports said that the MCD may consider renaming the historic Chandni Chowk, built during Mughal emperor Shahjahan's reign.

Abbi, in a statement, also appealed to Dikshit not to raise "such propaganda" ahead of civic body polls in April.  The MCD street-naming committee had also met today to discuss the naming of about 160 roads, parks and community halls in the city.

Though the proposal on Chandni Chowk was expected to come up in the meeting it did not.

Abbi said that any functionary of the MCD never made a statement on renaming the Delhi's cultural and historical Chandni Chowk.

"With the elections coming up, Congress is making an issue out of nothing," she said.

Following demands for honouring the cricket maestro, a councillor Suman Kumar Gupta had said that he will move a proposal in this regard in the MCD House meeting scheduled on January 11. However, later he said that he will be moving a proposal to name one of the streets in Chandni Chowk after Tendulkar.

The demands also elicited criticism from K N Katju Memorial Trust chaired by Press Council Chairperson Markandey Katju. The Trust in a letter to Abbi had termed the move an insult to the "cultural heritage" of the country.