No shortage in vegetable supply: officials
New Delhi: Senior officials of the Delhi today held a review meeting to deliberate on maintaing the existing market prices of vegetables in the national capital.The meeting was chaired by the Commissioner and Secretary (Development)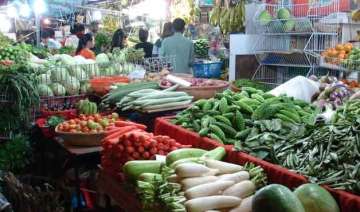 PTI
January 09, 2015 0:01 IST
New Delhi: Senior officials of the Delhi today held a review meeting to deliberate on maintaing the existing market prices of vegetables in the national capital.
The meeting was chaired by the Commissioner and Secretary (Development) along with officials of Development Department, Delhi Agricultural Marketing Board (DAMB), Agricultural Produce Marketing Committee (AMPCs) and other stakeholders.  As per data from APMCs, the supply position of all vegetables including onion, tomato, potato and seasonal green vegetables have been comfortable in December last and in the current month so far.
Officials said that there was no apprehension of any shortage in vegetable supply in the near future.  In order to inform the consumers about movement in wholesale prices, DAMB will frequently publish the prevailing prices of major vegetables in newspapers as well as on its website, the Delhi government said in a a statement today.  Further, the government will also take steps against restrictive or unfair trade practices, if need be, to ensure that artificial shortages and hike in prices are not created by unscrupulous elements, it said.
Large retailers such as SAFAL, NAFED and certain private sector operators have also been requested to publicise price information on a regular basis.