No toilets for CRPF men in Maoists-hit areas
New Delhi: Lack of basic toilet facilities is a major problem that Central Reserve Police Force (CRPF) personnel are facing in their camps in Maoist-hit areas of the country.Despite repeated complaints by the CRPF to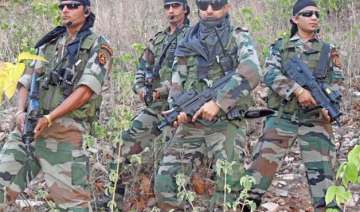 India TV News Desk
January 23, 2015 14:37 IST
New Delhi: Lack of basic toilet facilities is a major problem that Central Reserve Police Force (CRPF) personnel are facing in their camps in Maoist-hit areas of the country.
Despite repeated complaints by the CRPF to the Union home ministry, no action has been taken to bring some amount of comfort to the force that is bravely taking on insurgent groups in different parts of the country.
Director of Intelligence Bureau (IB), Dineshwar Sharma has now sent a letter to the Home ministry in this regard. In the letter, he has said that local authorities were not co-operating in constructing proper toilets.
Sharma has requested the Centre to sanction Rs 10 crore to the Force for constructing toilets.
"Living in the camps is becoming a problem. We need to improve the toilets as this makes life difficult for the force. We are in consultation with the home ministry and have got some money allotted for this," said Prakash Mishra, Director General, CRPF.
Some jawans were attacked when they went out in the woods to relieve themselves.
Jawans are made to live in deplorable conditions.
They use temporary structures as toilets that don't even have a sewage system. CRPF officers have even volunteered to construct the toilets on their own if the government cannot have it done for them.
After continuous protests by the CRPF officers, the government has granted a small portion of Security Related Expenditure (SRE) for construction of toilets in the camps.