North East made immense contribution to nation: President
New Delhi: Upholding the importance of the North Eastern states of India, President Pranab Mukherjee today said despite their paltry population, the states of the region have made immense contribution to the country.  "The population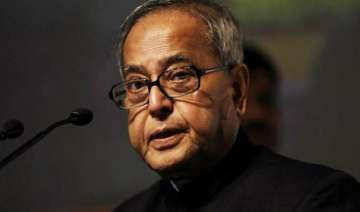 PTI
April 11, 2015 17:35 IST
New Delhi: Upholding the importance of the North Eastern states of India, President Pranab Mukherjee today said despite their paltry population, the states of the region have made immense contribution to the country.  
"The population of all these states is meagre, just four per cent of our total population but they have made immense contribution to the nation," Mukherjee said, inaugurating a day-long cultural festival, "Songs and dances of North East", here.
Iterating the region's importance, the President said that people of the region had actively participated in the freedom struggle.
"They gave us eminent political personalities who have contributed and enriched our national lives," he said.  Owing to its locational advantage of having international borders and rich resource endowment, the President said, the North East region has the potential to become a "hub of economic activities to have interactions with the more prosperous and fast developing regions of the world, that is, all ten states of ASEAN and South East Asia."
Mukherjee, who said he had visited almost all the states of the North East several times during his political career, appreciated the warmth and hospitality of the people and showered praise over the rich and diverse culture of the region's music and dance.
"If you go to any part of the region, you will be mesmerised not only by the scenic beauty but also by the hospitality and courtesy extended by them," he said, adding, "They truly believe all human beings belong to one entity, Vasudhaiva Kutumbakam."
Offering a glimpse of the festival, a special performance comprising the regional music and dances of all the eight states was presented before the President along with a choir performance by the acclaimed Shillong Chamber Choir.
 Hosted by the Meghalaya government and sponsored by the North Eastern Council, the festival seeks to bring the region closer to the rest of the country.
The states of Assam, Mizoram, Meghalaya, Tripura, Arunachal Pradesh, Sikkim, Nagaland and Manipur set up their stalls at the festival, which saw performances by leading music bands from the region.