Nuclear deal stuck on 'perpetual rights to check material' sought by US
New Delhi: The nuclear deal between India and US has faced yet another road block before reaching a successful closure.A specific demand by the US side to seek "flag rights in perpetuity" for any material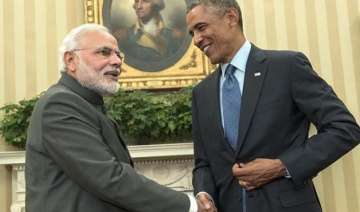 India TV News Desk
January 24, 2015 13:19 IST
New Delhi: The nuclear deal between India and US has faced yet another road block before reaching a successful closure.
A specific demand by the US side to seek "flag rights in perpetuity" for any material or equipment used in US-built reactor has again put the deal on standstill which was under discussion in a meeting in London on Wednesday.
As stated by Times of India newspaper, this road block remained even as the discussions showed some progress on the liability issue and prevented a successful conclusion, something which both the sides wanted to achieve as the main takeaway from the US President Barack Obama's India visit.
The US side is insisting on rights to monitor the use of any material or equipment in a US reactor even if it is sourced from a third country.
According to this, US authorities will have a right to forever monitor uranium, or any other material or equipment, sourced even from a third country like Kazakhstan or Australia if it is used in reactors built by American companies like Westinghouse or GE Hitachi.
This is being seen as an extremely intrusive measure by India which it would never agree to as it would impinge on its nuclear sovereignty. The Indian side expected in the meeting in London that the US side would understand India's position and agree to inspection by IAEA.
The MEA spokesperson Syed Akbarruddin said in  a media briefing that progress has been made over the nuclear liability issue however this one issue of 'flag rights in perpetuity' can derail the talks.
The negotiating teams have now left it on Obama and Modi to take the final call.
Reportedly, the third contact group meeting was the last chance for the two countries to find way to operationalize the nuclear agreement ahead of Modi-Obama summit by addressing the blockages.
But while US seem to have agreed on India's proposal to provide insurance pool to provide cover to suppliers also, it is not ready to budge on the administrative issue.
The Indian government is keen to ensure a breakthrough in the meeting as a means to convince US about its commitment to the civil nuclear deal.