Obama's Agra visit: IRCTC invites US President to travel in Maharajas' Express
New Delhi: The Indian Railway Catering & Tourism Corporation (IRCTC) has invited US President Barack Obama along with his family to travel in Maharajas' Express.Maharajas' Express is one of the most expensive and luxurious train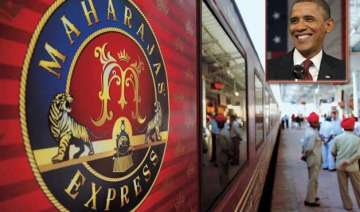 India TV News Desk
January 20, 2015 13:36 IST
New Delhi: The Indian Railway Catering & Tourism Corporation (IRCTC) has invited US President Barack Obama along with his family to travel in Maharajas' Express.
Maharajas' Express is one of the most expensive and luxurious train in the world owned and operated by IRCTC.
A formal invite in this regard, according to a report published in Economic Times, was sent through the Ministry of External Affairs.
IRCTC Chairman and MD AK Manocha said that the invitation had been sent to Obama through the proper channels after taking clearance from the Prime Minister's Office (PMO).
"We are looking forward that Obama will accept and travel to Agra on the USD 3,000-a-night Presidential Suite of the train," Manocha said.
The US President's visit to Agra to see the Taj Mahal is almost certain. Security officials including US Secret Service are camping in the city to ensure a smooth visit by the leader.
Manocha further said that the train would require one day of maintenance and then it will be ready to carry the US President and his family.
Maharajas' Express bestowed the 'World's Leading Luxury Train' award at the World Travel Awards for two consecutive years in 2012 and 2013.
Obama will travel to New Delhi later this week to attend the Republic Day parade on January 26, the first US president to do so. The US and Indian security agencies are taking extra care for Obama as he will be on an open air platform at Rajpath for more than two hours, witnessing the parade.