Obama in India : India Gate lawns closed for public
New Delhi: The lawns of India Gate has been closed for the common man with huge Army tanks and vehicles deployed as to secure the area before Republic Day celebrations at the majestic Rajpath. US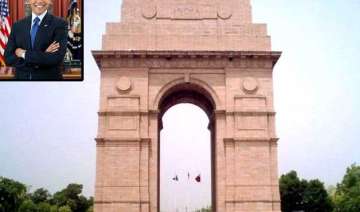 India TV News Desk
January 20, 2015 20:43 IST
New Delhi: The lawns of India Gate has been closed for the common man with huge Army tanks and vehicles deployed as to secure the area before Republic Day celebrations at the majestic Rajpath. US President Barack Obama will be the chief guest at this year's R-Day celebrations.
The entire area has been cordoned off and Army can be seen guarding the area everywhere in the close vicinity of Rajpath.
The  security agencies are facing the challenge of guarding a battery of high-risk VIPs- President Pranab Mukherjee, Prime Minister Narendra Modi, US President Barack Obama and other high-profile dignitaries who will be attending the Republic Day celebrations on January 26.
There are reports of a 7-tier security for the US President.
Security forces are on the high alert for the two leaders of the two largest democracies who face  threat from global terrorist groups.
The US Secret Service, CIA, Navy Seals and India's Research and Analysis Wing (RAW), Intelligence Bureau, paramilitary forces and Army are leaving no stone unturned in ensuring full-proof security to the dignitaries.