Obama in India: US President spotted chewing gum during Republic Day parade
New Delhi: US President Barack Obama was spotted chewing gum during the 66th Republic Day parade where he was present as the Chief Guest.The American President was caught removing the gum and popping it back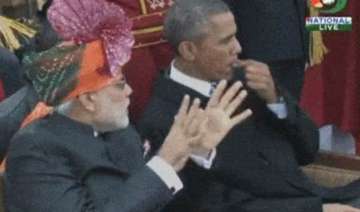 India TV News Desk
January 26, 2015 13:27 IST
New Delhi: US President Barack Obama was spotted chewing gum during the 66th Republic Day parade where he was present as the Chief Guest.
The American President was caught removing the gum and popping it back into his mouth as he witnessed the two-hour long parade at the majestic Rajpath.  
The US media had in past reported that Obama is hooked to the gum to fight his smoking addiction.
The visiting dignitary was seated next to Prime Minister Narendra Modi, who wore a colourful turban for the occasion.
This is not the first time that the American President was spotted chewing gum. In November last year, Obama was spotted chewing gum at the Asia Pacific Economic Cooperation held in Beijing.
Obama became the first American President to grace the Republic Day celebrations. He is also the first American President to visit India twice, in office.