Obama witnesses India's 'Made in Russia' military power at Republic Day parade
New Delhi: Barack Obama became the first United States President to attend the Indian Republic Day parade as chief guest today.He was greeted at the ceremonial ground by India's military power with mostly Russian made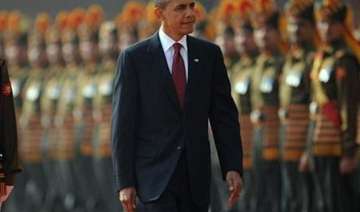 India TV News Desk
January 27, 2015 8:25 IST
New Delhi: Barack Obama became the first United States President to attend the Indian Republic Day parade as chief guest today.
He was greeted at the ceremonial ground by India's military power with mostly Russian made hardware.
The military parade must have made Obama realize that world power has a long way to go to surpass Russia and become India's largest military supplier.
 
Noticeably, India has close strategic ties with Russia and both countries have shared military technologies for a long time. On the other hand Russia-US ties have further soured following the Ukraine crisis.
 
American President Obama and PM Modi arrived in the pouring rain in the morning and they were welcomed by Russia made Mil Helicopters.  Following that an array of Indian military tanks and missiles passed, most of them Russian made.
The first to roll through Rajpath were Russia made T-90 Bhishma battle tanks. One of the most prized possession of India, Brahmos supersonic missiles were also on the display today. World's fastest short range missile is jointly developed by India and Russia. The name is an abbreviation of two rivers, Brahmaputra of India and Moskva of Russia.
Displaying its air power at the parade, Indian Air Force pilots flied Mig-29 and Sukhoi Su-30MKI, both Russian fighter jets.
However, White House officials quickly moved to dismiss that President Obama was offended by the display of Russian made weapons at the parade.
A leading daily quoted Deputy National Security adviser, Ben Rhodes as saying, "The US is quickly moving toward surpassing Russia as a defence exporter to India. The balance has shifted over years and our relationship is on the upswing even though we understand there is a legacy relationship. That cold war relationship has been a source of mistrust but we are moving beyond that."
For your information, Russia is the largest importer of weapons to India, with a supply of worth $4.8 billion in the year 2013 alone.